We are delighted to invite you to come to New York, one of the most exciting cities of the world, and take part in IJCAI, the leading conference on the thrilling field of Artificial Intelligence. AI today has a tremendous impact. It is in all the media and makes a real difference. At IJCAI-16, you will have the opportunity to meet some of the world's leading AI researchers, to learn first-hand about their newest research results and developments, and to catch up with current AI trends in science and industry. And, of course, IJCAI-16 will be the perfect forum for presenting your own achievements, both to specialists in your field, and to the AI world in general.

In addition to the presentation of 551 technical papers (selected from the largest ever pool of submissions to IJCAI), the conference will include tutorials, workshops, demonstrations, invited talks, sister conferences best paper talks and early career spotlight talks. On Friday afternoon, IJCAI will have an AI Festival featuring talks from IJCAI award winners (this session will be open to the public). Friday will also feature an industry day.

The theme of this year's conference is Human-Aware Artificial Intelligence--we will have technical paper sessions, invited talks and panels organized around this theme, and focusing on the many benefits of AI systems working in collaboration with humans.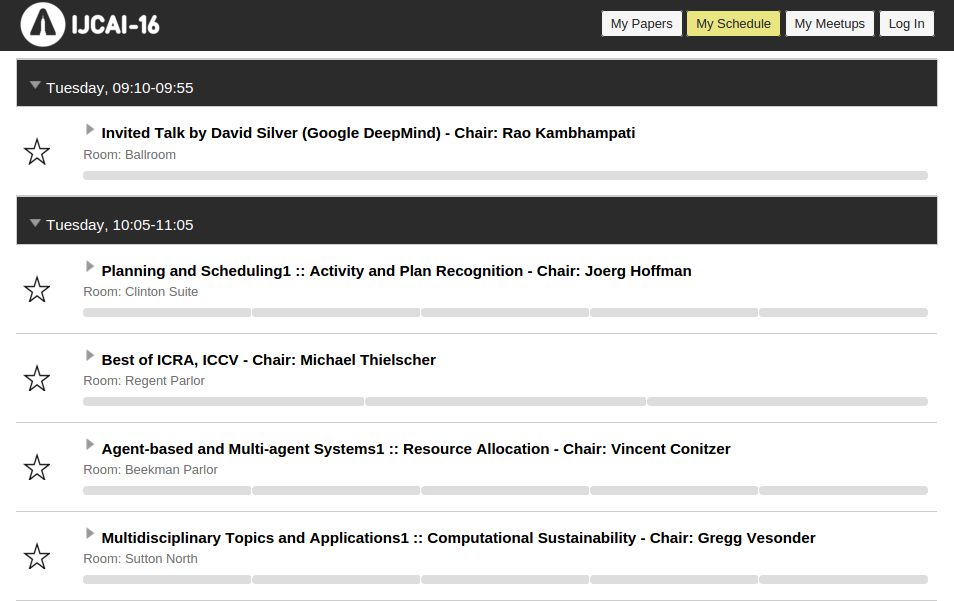 Online schedule The conference (including workshops and tutorials) will be held at the Hilton in midtown Manhattan. The Hilton is just a ten-minute walk from Central Park, where the conference banquet will be held, and half a block from the world-famous Museum of Modern Art, where we will hold the opening reception. Times Square, the Broadway theater district, the Empire State Building and many other famous tourist attractions are all in walking distance --- an extra reason to join us and to add a couple of days to your visit.

So, mark the dates on your calendar and start thinking about which papers to submit and which systems to demonstrate. If you work for a company consider taking advantage of the exhibition opportunities IJCAI-16 will provide. And if you are a potential sponsor please check our sponsorship brochure. The visibility you will get by sponsoring IJCAI-16 will be hard to match.

Looking forward to meeting you in New York!
The IJCAI-16 Conference Committee.
Program Chair Rao Kambhampati reports on the developments in preparing for the conference in his blog here.
Here is the word cloud from the titles of the papers accepted to the IJCAI-16 technical program.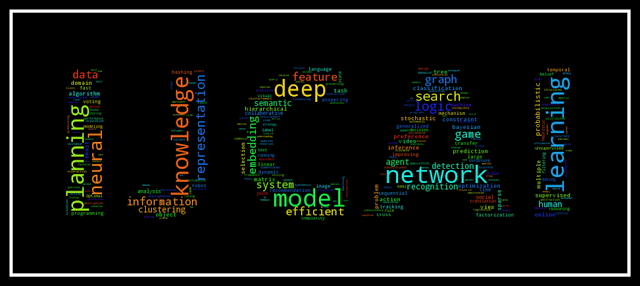 Call for award nominations here.
Call for papers here.
Special track here.
To download the IJCAI 2016 poster, please click here.
The IJCAI Industry Day (7/15) is a networking event for industry executives, entrepreneurs and researchers. For more information go to
Industry day
.
There has been a schedule change for the Industry Day. Please, consult Industry day changes for the new, updated version
.
AIJ-IJCAI TRAVEL GRANT REIMBURSEMENT INSTRUCTIONS
are available. Please consult
IJCAI-16 Travel Grants Program
.
Important dates
Pre-conference:

Abstract deadline: 1/27
Paper deadline: 2/2
Rebuttal period: 3/10-11
Notification: 4/4
Camera Ready: 4/20

Conference:

Saturday 7/9 - Monday 7/11 Workshops and Tutorials
Monday 7/11 Reception (Museum of Modern Art)
Tuesday 7/12 - Friday 7/15 Technical Program
Wednesday 7/13 Banquet (Central Park Zoo).
Sponsors
Platinum Level
Golden Level
Bronze Level
Donations